RAW CASHEW CLEANING AND CALIBRATION MACHINE
calibrator, cashew cleaning machine, raw cashew grading machine,
Raw cashew sorting machine
Application: The raw cashew cleaning and calibration machine use processing and cleaning kind of raw cashew nuts, the machine has been designed from simple to automatic with shelling by hand or machine. The machine has classification with ranges from 18 to 25 millimeters.
Processing: Raw cashew -> Hopper -> Bucket conveyor -> Cleaning & stone removing machine -> calibration -> Finised raw cashew A, B, C, D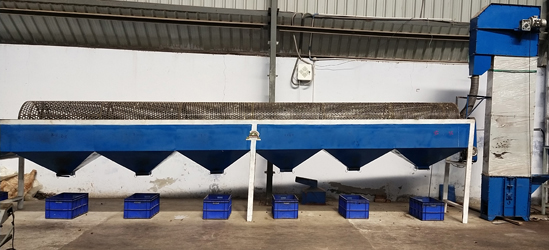 The raw cashew cleaning and calibration machine is equiped the operation control by advanced electronic control system with full automatic from feeder, cleaning, removing stone to grading size of raw cashew nut.
The Finished raw cashew cleaning and calibration machine have high uniformity and precision of the classification, suitble for two kind cashew cashew roasting technology and steaming technology.
Whole parts of machine as Motor, chain, electric component is used high quality.
The machine can operate independently or connect multiple machines into a high-performance automatic production line
Easy operation and maintainace.
Capacity: 300 To 500 kg / h
Finish product: 4 to 5 kinds of raw cashew with different sizes (A,B,C), size of hole Ø 17- 23 mm
Feeder: material supplied by bucket elevator
Power: 2 Hp 3 Phase
Dimension of install (LxWxH): 32Ft x 3.3 Ft x 8.5Ft